Florida Tech Trek 2021 Program is now Complete
In 2021 we will hold two virtual camps. The girls selected for the 2020 camps and the girls who selected for the 2021 camps will be able to choose which session of the camp they prefer to attend.  Both  2021 camps will be held July 19th through July 23rd.  The camp formats will be similar but the core courses and the workshops  will be  different and offered at different times of the day. At one camp the core classes will be the morning and at other camp they will be in the afternoon. The field trips will be virtual visits to Florida STEM locations. The idescriptions for the core courses and workshops are listed under 2021 Tech Trek Camp.  Also listed there will be the information about the panel discussions and Friday's field trips
EXCITING NEW COURSE AVAILABLE AT BOTH 2021 TECH TREK CAMPS.
The AAUW Florida Tech Trek camps are thrilled to have the opportunity to provide Qualcomm's Thinkabit Lab at this year's STEM-oriented virtual Tech Trekcamps, July 19-23, 2021. This program focuses on wearable robotics engineering and building problem solving skills. The Qualcomm® Thinkabit Lab™ is expanding its pilot program by collaborating with the Florida AAUW and other AAUW Tech Trek sites to bring the new, creative Thinkabit Lab's Wearable Tech project to more middle school girls. The girls who enroll in this core course will learn circuitry, engineering, and programming by designing an automated hat that represents their strengths, interests, and values. We are pleased that Qualcomm, the world's leading wireless technology innovator, has invited Florida's Tech Trek camp to participate in  their pilot program with AAUW.
This Tech Trek Florida Camp Video will give you an idea of the type and range of activities that the girls participate in place during their week of camp.
A Review of the Florida Tech Trek 2019 Activites
Ninety-six  girls arrived at the 2019 AAUW Florida Tech Trek Camp at the two camp locations. The girls attended one of four core classes at both camps beginning Monday morning. The core classes met every morning through Thursday.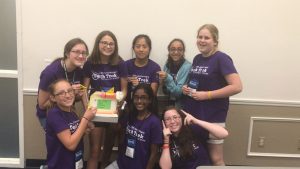 Each afternoon the girls attended workshops that included  such topics as DNA testing, Cybersecurity, Chemistry, and Personal Finance presented by local Well-Fargo Bank personnel.   By the end of Thursday afternoon every girl had attended all eight of the workshops.  On Friday  all of the campers at each camp went to an interesting STEM site. that was close to the location of each camp.  Each evening each camp had an interesting activity for the girls.
One night of the week each camp held a special dinner to which local STEM professional women were invited to talk about their STEM careers.  There were professional women at each of the tables so the girls could ask these women questions about their careers, their educations, etc.  Following dinner the women  participated in panel discussions.  At the end of the presentations the girls were able to ask questions they had prepared ahead of time. Before the girls said goodbye to their new friends and the camp staff they had an opportunity to show the parents and family members what they learned particularly in the core classes.
The girls in the Engineering Classes worked in pairs to research, design, and build bridges out of balsa wood.  The most successful ones held 20 lbs of weight.  In the Robotics class the pairs constructed and programmed robots to do various tasks, to test them and then they were taught to do something more difficult. The pairs of girls in the Applications Inventors class learned to build code to create their own apps for their tablets. Each day they learned how to make their apps more complex. This was the second year the camp offered a Marine Biology class.  They spent three mornings in the lab and the 4th morning they visiting an off-campus site.  Those in the Cyber security class learned how to protect  their electronic devices from unwanted  attacks.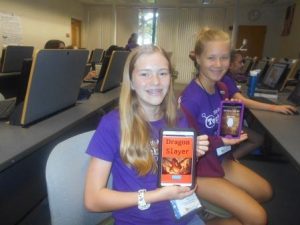 Campers and all the staff members resided in one of the campus dorms and ate in the campus cafeterias.  Each evening there were a variety of activities.  he girls who attended the camps described their camp experiences as "awesome", "extraordinary", "exciting", "incredible" and "a unique educational experience".
It takes approximately $1,100 per girl to hold the camp each year. The  2019 camps received generous contributions from AAUW Florida, Praxair, Symantec, Aerojet Rocketdyne, Wells Fargo, Loggerhead Marine Life Center, June Carlson,  the Community Foundation of Sarasota's AAUW Norma Heeps Fund, the Charitable Foundation of AAUW Northern Palm Beach County and the South Florida Science Center and Aquarium . These individuals also made very generous contributions to the Camp: Maria Asencio, Susan Berlin, Kathy Egolf, Helen Elkiss, Virginia Farace, Harriet Hart, Eloise Malinsky, Ellen Roche and Rachel Slone,
Federal income tax-deductible contributions for the two virtual 2021 camps may be mailed to Tech Trek, c/o AAUW Florida Supporting Foundation, Inc, PO Box 2938, Jupiter,FL 33468.  Checks must be made payable to the AAUW Florida Supporting Foundation, Inc. with Tech Trek noted on the memo line. 
Support Tech Trek By Shopping!
Go to https://smile.amazon.com to do do your amazon shopping and the amazon will donate a small percentage of your purchases excluding taxes, gift wrap, etc to the Florida AAUW Supporting Foundation, the sponsor of the Tech Trek camps.  For more information about how to do this go to the donate page on this website.  Every item you purchase through smile.amazon.com will help raise money for Tech Trek.
Camp History
AAUW has been a leader in the effort to interest more young girls in science, technology, engineering and math (STEM).  The first summer Tech Trek camp was held on the campus of California's Stanford University in 1998. Now there are ten California camps and ten additional camps scattered around the United States. Thanks to very generous sponsors and supportive donors, families pay only a $50 fee to send a girl to camp so that girls from a wide range of backgrounds are able to attend.